Harper was about 2 years old when we discovered she was allergic to dairy.  We started to notice that she would break out in a rash when she drank milk so we immediately eliminated it from her diet.  However, other forms of dairy such as yogurt, cheese, and butter didn't seem to bother her as much so she would still indulge in those things every now and then.  As she has gotten older her sensitivity to dairy has gotten stronger and as of her fifth birthday she has gone completely dairy free.
While we have found new ways to prepare our favorite foods without dairy at home, holidays can always throw a wrench into things. Especially Halloween!  If you have become a label reader like me, then you're probably aware that dairy is in pretty much everything.  I mean, some foods are pretty obvious (like MILK chocolate), but others came as a huge surprise (like BBQ chips!).  And while Harper's dad and I are happy to help her eat the candy that she is allergic to, it kind of takes the fun out of trick-or-treating if all she can enjoy is a few small packs of Skittles (and that's if she's lucky!).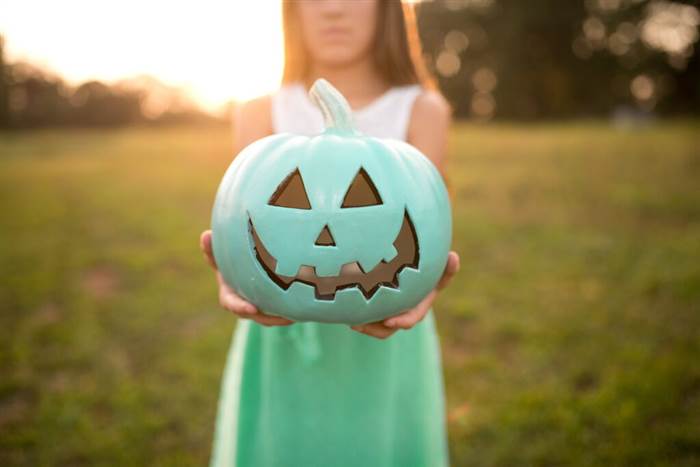 The more I talk about Harper's dairy allergy with other moms, the more I have come to learn that many kids deal with food allergies these days.  Whether it is an allergy to gluten, corn, citrus, red food dye or something else, it can be hard to cater to each and every special dietary need.  Which is why I am loving the idea of the Teal Pumpkin Project. Three years ago a group of moms teamed up to bring awareness to food allergies as well as and provide a safe alternative to trick-or-treating candy by offering non-food treats.  In order to participate, you simply place a teal pumpkin in front of your home to let trick-or-treaters know that you have non-food items to pass out.  And they've even created a list of ideas to make it easy!  Here are some of our top 5 favorite ideas we've found on the web:
2. Booo-bles
Or, if you're anything like me, and your ambition to make homemade non-food treat like the ones above is greater than is realistically feasible, then don't worry, it's Target to the rescue! They have some adorable non-food treats such as packs of halloween themed pencils, vampire fangs or spiders for only $1.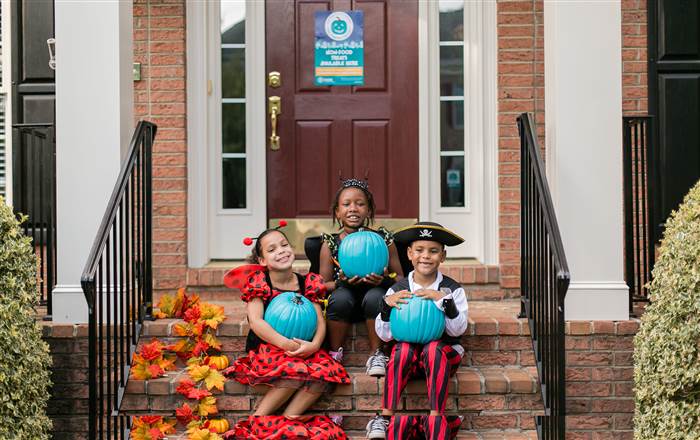 Images used courtesy of Today.com