My CoCo Bean is an online space where all little ones (& their parents), are celebrated!
We are so happy that you are visiting our website. We hope you will enjoy learning about us and hope you sign up to become part of the My CoCo Bean Community!
Let us introduce ourselves: We are Thenera and Tenelle Bailey. We are sisters, we are best friends, and we are entrepreneurs. We also happen to be a mother and an aunt to Cameron, one of the most adorable little chocolate- skinned kids you've ever seen (said modestly, lol).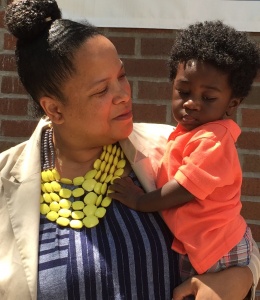 Cameron's existence is where the story of My CoCo Bean actually begins. (He's the little guy in the center of our logo). He is the inspiration, the muse, and the legacy of our brand. A good friend of ours (Kemba, pictured) gave Cameron the nickname "Coco Bean" when she met him for the first time. Cameron has smooth dark brown skin, big beautiful brown eyes and amazing jet black curly hair. Needless to say, the name not only was a fit to how cute, little, and brown Cameron was, but also resonated with a business idea we had been thinking of since shortly after his birth.
 As a new mom and auntie, we looked all over for baby things that represented and celebrated Cameron's special qualities. But we quickly realized that the selection of children and baby items that celebrated the diversity of little ones was very limited. We heard from  other parents and families that they too wanted to celebrate the specialness in their own "CoCo Bean" but struggled to find quality products with diverse statements and images.  Given our personal interest and professional experience, we quickly realized that we could create something unique and wonderful to fill this need.
Auntie Tenelle, has spent her entire career in the fashion industry. With degrees in fashion design and marketing, she brings this experience as a designer and creative director to develop and find the products available through My CoCo Bean.

Mom Thenera, is a strategy consultant and entrepreneur. She has spent her career supporting programs and organizations in their strategic  leadership and management. She has predominantly worked with social ventures and nonprofits and brings this experience to the operations of My CoCo Bean.  
When we decided to launch the company we wanted My CoCo Bean to be a resource of support to other children, families and parents. 25-50% of all proceeds from the purchase of My CoCo Bean products benefits foster families and children in foster care, single parents, struggling families and children in need across the globe. To learn more about this initiative visit the Our Giving section of the website.
Parenting is hard, so that is why the My CoCo Bean Community provides, tips, information and tools to help parents navigate and learn from other parents and experts. From activities and learning tools, to resources for health and wellness issues not only can you find great clothes at My CoCo Bean but also great information. We also have stories on our blog from parents and families sharing their day to day experiences. We hope that My CoCo Bean will grow into a community space for parents and families.
We officially launched the My CoCo Bean website, blog and shop in October 2016. We are so excited to create this space where you can shop as well as be a part of a community that celebrates both little ones and their parents!