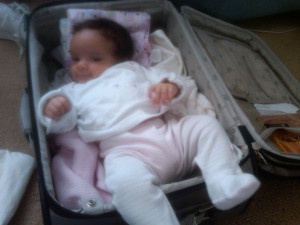 Traveling with a little one can seem daunting. Or at least it did to me when I first became a mama. But after two kids and a handful of successful trips under my belt, I realized that it's not such a big deal after all 🙂
With the holidays around the corner, we have compiled a list of some helpful tips to consider when you travel with your CoCo Beans.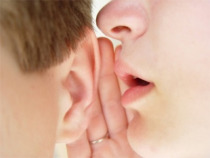 1. Give them a heads up: Babies are very observant and are aware of everything that is happening around them. Going on the plane for the first time can be a scary and uncomfortable experience. But, if you let them know ahead of time what they can expect, I believe that it can help them adjust more easily.
Leading up to our first trip with Harper, I remember telling her about what was going to be happening in the next few days. I let her know what we were planning on doing, who we were going to see, and how long we would be gone. Once we were at the airport I was explaining to her the different stages of traveling and reassuring her that this was a fun and exciting new experience. Involving your CoCo Bean in conversations and keeping them up to speed about what is happening around them will help to put their minds at ease.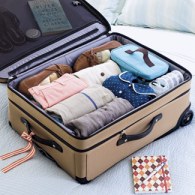 2. Packing: When traveling with a little one it is important to be prepared for any possible situation. And I am not just talking about your final destination but for the plane ride itself. You never know when you may be stuck in an airport somewhere because of a delayed or cancelled flight. So it's a good idea to make sure you are fully stocked with all the essentials. When we travel with our girls we always pack them their own little suitcase. It is carry on size so that way we can have it with us at all times. We use this in place of a diaper bag so that we eliminate an extra bag all-together.
So what are the essentials?
Pajamas: Even though I try to reuse the pajamas the girls wears nightly since they get such little use out of them and usually put them on after a bath, I always pack enough pajamas for each night we will be away. I like to pack a variety of different styles (footies, short sleeves, two pieces) in case the weather changes. That way I have all my bases covered.
Clothes: When I pack for the girls I always make sure I have a variety of different options. As much as I would like to trust the weather forecast, it can change in an instant. So its best that you come prepared with clothes for any type of climate. I normally pack enough outfits for the days we will be gone as well as a few extra outfits just in case. I always pack a jacket and plenty of socks.  It might also be a good idea to bring a hat too for sunny or cold weather.
Blankets: Since we prefer to go on road trips and stay at hotels often, we started getting in the habit of bringing along receiving blankets that we would put on top of the sheets.  Hotels tend to use harsh detergents on their bedding so this is our way to help limit the amount of chemicals the girls could potentially breath in or come into contact with her skin. As our girls grew up and were moving around more in their sleep, this method doesn't seem to work as well but it was a great solution in the beginning. Plus, it also gave them a familiar scent to sleep on which may or may not have helped them sleep better in an unfamiliar environment.
Diapers/Wipes: Depending on how long you are going to be gone, it might be easier to purchase diapers and wipes once you reach your destination but I always bring my own. I tend to overpack because I would rather have more than not enough. I usually budget around 5-7 diapers per day just to be safe.  I also pack a few full packs of wipes in addition to a small supply that gets left in the diaper bag.
Toiletries: I purchased a very inexpensive first aid/hygiene kit for the girls that I always bring with us when we travel. I don't bring everything that came in it but I do make sure I have a pair of nail clippers, snot sucker, saline, camilia drops, soap, comb, toothbrush, and lotion. I like to take the snot sucker and saline just in case because with the dry air on the plane or change in weather in your new destination, there is a chance that your little can develop a slight runny nose. It's never a bad idea to bring a thermometer either. Having these simple tools at your finger tips can help you deal with any issue immediately.
Toys/Books: You don't want to go overboard in this area but I would recommend that you bring some type of activity to help keep them busy. Small items that you can throw in your purse or pockets might be enough to keep your little one entertained. Favorite toys include Violet and a magic wand we were told we couldn't travel without (similar to this). While we may not use them all the time I think its worth packing just in case.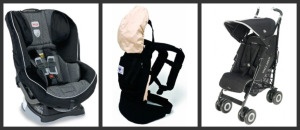 3. Car Seats/Carriers/Strollers:
Car Seats: If you are going to a place where you will be driving, you will have to bring your car seat with you.  The good news is that the airline will check it for free! Some people choose to bring their infant seats on the plane with them but because we transitioned our girls into a convertible seat early on, which are too big to fit on the plane, we checked it through at the ticket counter.
Carriers: I like to wear my ERGO most when we travel. I find that carrying my girls around in it is easier than navigating through the crowds in a stroller. It also takes up less space, is light weight and then you have one less thing to worry about.
Strollers: If you do decide to travel with a stroller it is best to use an umbrella stroller. They fold up easily, are light weight and get the job done. While I prefer to use a carrier over a stroller when traveling they do come in handy when I travel when the girls alone because then I have a safe a clean place to put them when I visit the restroom.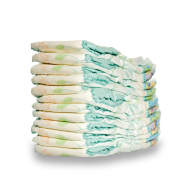 4. Diapering: We all know how much space airplane bathrooms don't have. On long flights you won't be able to avoid changing your little one and chances are you will have to make do with the itty bitty space (unless you are lucky enough to get your own row). But if you are only taking a short trip do your best to make sure your little one gets on the plane with a dry diaper. I changed my girls right before we got on the flight and changed them again as soon as we deplaned and it worked out well.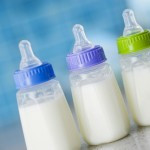 5. Feeding: Because of the cabin pressure, I was advised to nurse my girls during take off and landing to help clear their ears. So I timed my feedings accordingly. To be honest, the girls weren't always interested in eating because they were too excited about what was going on outside. But I was glad to have that information in my back pocket should they have become uncomfortable.
For more details on traveling with your little one, including packing lists and airline information, check out these helpful blogs/websites: