Since her birth, Mira has been in the same bed space. On the "A" side, in the middle of the room on the left. Meanwhile, she's had at least 10 little "friends" come and go during her eight weeks there. And each time one of them leaves, it makes me feel some kinda way. Truth is, it makes me jealous. Granted, I don't know why or for how long those other babies need to be in the NICU, whether they are going home or just to the "B" side or how well or not they are. All I know is they are making moves and we are still in bed space 22.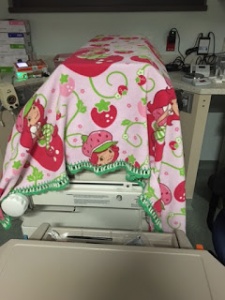 We probably have about six more weeks to go because Mira's recent setback means she needs to pace herself a bit. And, truth is, I'm starting to lose my steam. I can drive to the hospital, park and walk to the NICU with my eyes closed. I can count three minutes in my head without using the timer as I scrub my arms from fingertip to elbow. Everybody knows my name and I know theirs. I know their schedules and half of their stories. My arms are starting to get intolerant of the scrub soap. And I've even stopped pumping as much now that she's on all formula. Feels like there's no use stressing myself out for a few drops when I could be at the hospital caring for her instead.
Don't get me wrong, I love seeing Mira everyday (lately, it's been twice a day). Once I'm there, it's heaven. Holding her in my arms is the best thing on earth and she really is the sweetest baby. But getting up the energy to go through the process of getting there is wearing me down. Add that on top of the fact that I haven't worked in two months and money is getting lower than I'd like, and the anxiety of wanting her to come home hits me hard. I'm having to say double the prayers these days to keep things together, so this blog has really helped.
I'm keeping things in perspective these days by trying to look at all the ups and downs as a part of the journey. From the minute I knew she'd be a preemie, I viewed this as the longest car ride home ever with a pit stop in the NICU. And for the most part, I've taken a hands off approach in terms of trying to do anything more than just be there for her and be her mom-vocate. I don't rush her nor expect her to go faster than she can and just try to roll with the punches. And we've had a million important milestones to celebrate which keeps me feeling like we're moving in the right direction. So when I see other babies rolling out of her room, I try to remind myself that we are all there for different reasons and seasons and it's just their time to move on.
I know these are not things I can control. And I'm not even trying to as is my nature. Rather they are things that I need to endure. So that's what I'm asking God for these days – the strength and energy to endure and to keep the pace of the situation. And I'd appreciate you praying the same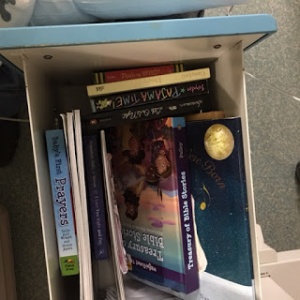 for me. Because now that I'm a mom, I know that slowing down isn't an option. It could mean the difference between picking up on a problem with Mira and not.
So, this week, Mira's room is full again. And no matter how things shuffle around, I am trusting God for favor that we will one day soon leave bed space 22 for our next adventure. And that he will give me the grace and strength for whatever challenges and triumphs await us there.
Thanks for your prayers and support.