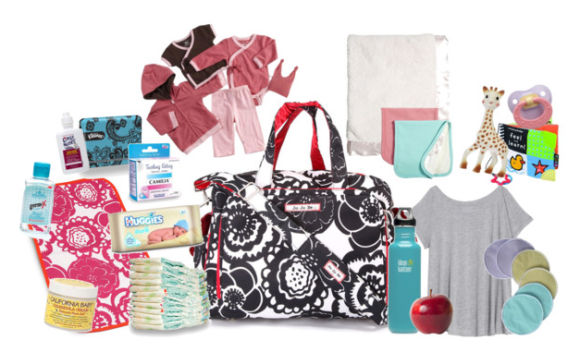 If there is one lesson I have learned as a mother of two girls, it is that the parenthood journey is full of surprises.  While there is not much you can do to prepare for most of those moments, having a well-stocked diaper bag can prove to be a life saver for those minor crises.
For the new moms out there you might look at this list and say, "Wow…really? That's a lot of stuff to carry around in one bag! Is every single item truly necessary?".  Well, the easy answer is, "yes". But of course, like any thing in life, there is no doubt you could get by without some things. These are just the items I like to keep on hand for those "just in case" moments. Because with a baby, it is always good to be prepared.
1. Diaper Bag: Before Harper arrived, I had my eye on so many cute, stylish and fancy diaper bags. Then when I actually started carrying one around I realized the most important thing about a diaper bag is how much stuff it holds and how comfortable it is to wear it. A great option would be a diaper bag that can be worn multiple ways. Many of the bags now-a-days have removable straps. So you can wear it on your shoulder, hang it on your stroller or wear it as a backpack.
2. Diapers: Whenever I go out, I always make sure I have a good stash of diapers. I like to keep at least 5 diapers with me at all times. And then I  always restock when I got home so I'm ready the next time we are out and about.  It's also not a bad idea to have an emergency stash in the trunk of your car.  Just remember to change them out as your baby moves through sizes.
3. Wipes: Most diaper bags nowadays have a built-in wipe dispenser. But they usually don't hold very many. I happen to believe that you can never have enough wipes. Especially on the days when you are dealing with a blow out. So when it comes to wipes, I like to keep a refill size bag on me at all times. Because the last thing you want to run out of is wipes. Plus, they are useful for so many things (dirty hands, faces and toys).
4. Changing Pad: Again, most diaper bags come with a matching changing pad. And some even have a changing pad attached to the diaper bag. Either way, having a changing pad is a must! It allows you to keep your little one clean and gives you the freedom to change them anywhere. I would suggest having a few extra at home so that you can re-stock when they get dirty and not worry about running the laundry right away. In a pinch, there are always disposable ones.
5. Diaper Cream: You never know when your little one's bum might need some attention. A diaper rash can creep up quickly and it is important that you tend to it immediately before it gets out of hand. I have found Boudreaux's Butt Paste to work best for Hope. She has never had a very big problem with diaper rash but whenever I notice a small sign of irritation I apply a small amount and it works immediately.
6. Hand Sanitizer: Nature may not always call in a convenient location. So having a small bottle of hand sanitizer is a great way to wash up before and after a diaper change when there are no sinks to be found.
7. Teething Remedies: This item may not apply when the babies are little, but once Hope started to show signs of pre-teething I made sure I always had a variety of teething remedies of these on hand.  Whether you prefer gel, tabs, or drops, they can prove to be a life saver for both mama and baby.
8. Tissue: This is one of those things you could probably live without, but for some reason I always found myself looking for some. Whether it was for the girls or my husband and me, tissue is always a nice thing to have handy.
9. Saline Solution: Although you may not need to use this all the time, it's nice to keep an extra bottle in the diaper bag just in case. Saline solution helps to clear and clean stuffy noses. This can be very useful in the midst of a feeding when your little one is having trouble breathing through their nose. It is small enough that it doesn't take up much space. And trust me, that one time that you need it and you don't have it, you'll wish you did.
10. Extra Clothes: I used to only carry around one extra outfit with me. But then one day, just when I thought one blowout was enough, Hope surprised me with blowout #2, and I wasn't prepared. So after that, I always kept 2 extra outfits with me. And if that seems like too much to carry around (because it is) you can keep extra outfit #2 in your car. Oh, and don't forget the socks!
11. Hat: I always liked to bring an extra hat with me. Even though neither of my girls were ever big fans of hats, having a warm hat during the winter and a sun hat during the summer made sure that I was prepared for whatever the weather would bring.
12. Blanket: Blankets are useful for so many reasons. For one, they keep them warm (duh!). But they can also act as a cover when nursing, a shield from the elements (wind, rain), or a quick play mat at the park. If you use a stroller or infant seat, they also come in handy to create a barrier for sound which can help your little one sleep.
13. Burp Cloths: I found you could never have enough of these. I think I always carried around at least 3 with me. Especially in the early days. Harper and Hope had bad reflux and would spit up often, so I would go through them quickly.
14. Toys: I always liked to carry a few toys around with me to help keep the girls occupied on the go. Chances are they will have some favorites and so it is always a good idea to bring those along. As the girls began teething, this became more of a necessity, as the teething toys were always helpful in soothing her gums.
15. Pacifier: My girls were never interested in a pacifier (unless it belonged to someone else), but for the babies who do use them, I have been told that it is a good idea to carry an extra one with you at all times. You never know when it might fall on the ground, get lost or stolen by another baby (named Hope!).
16. Book: I learned to always carry a book around by one of my friends who had an older baby. I can remember one time we were at a restaurant and the service was a little slow and the babies were getting a bit antsy. As soon as she pulled out the book and started reading, they are immediately captivated. Bringing along a travel sized book is best because it doesn't take up very much space.
17. Extra Shirt: Now I am talking about mom. I had to learn this one the hard way. When the babies are little, there are so many bodily fluids flying around, you never know what might end up on your shirt. Most times it's as easy as wiping it off, but sometimes it requires a full change. In cases like these, an extra t-shirt stored in the diaper bag or the car can save you from having to go all the way home.
18. Nursing Pads: Having an extra stash of these is a great idea. Especially in the early days, before your milk supply regulates. Of course, you always have your extra shirt if you end up with an unexpected leak, but having a few nursing pads lying around will help you from having to use it.
19. Snacks: If you are a nursing mom, it is important that you eat frequently. Plus, if you are anything like me, there will be moments when all of a sudden you become absolutely ravenous and require food immediately. So packing your diaper bag with easy snacks that you can grab on the go will help to tide you over until your next full meal.
20. Water: If you are a nursing mom, it is important that you stay hydrated. Carrying a bottle of water with you at all times will help make sure that you don't go thirsty. A good way to remind yourself to drink enough water is to drink when the baby drinks (nurses).
And if all of that isn't enough, you might also want to consider sticking your phone, wallet and keys in your diaper bag as well. Because the truth is, the last thing you want to carry around is a purse. So why not just consolidate it all and make life easier on yourself. The good news is, once your babies get a little older, or starts using the potty, you probably won't need to carry most of this stuff around with you anymore. But in the beginning, I always liked to feel prepared for whatever might come my way.
If you are more of a minimalist and would rather just carry around diapers, wipes and cream, check out these adorable Diapees & Wipees portable pouches. These are small enough to thrown in your purse and help to keep everything nice and compact.