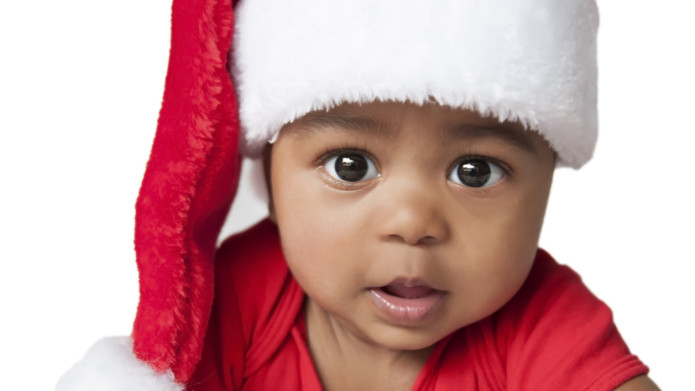 Today it finally hit me…Christmas is less than 4 weeks away! I am slowly but surely getting into the Christmas spirit. This year is extra special because Hope is finally of the age where the magic of Christmas is exciting and engaging.
With so much stuff on the market for the little ones in our lives, it can be hard to determine which gift is the best choice. To be honest, with all the gifts received at the baby shower and beyond, our little ones probably don't need a whole lot of anything. But, it's always fun to open gifts, especially when you are a kid. So, if you are in the market for some gift ideas for a little one, here is a short list of some sure to be favorites.
Age 0-3 Months
The truth about this age is that they don't play too much with toys…yet. But, getting them a toy that they can grow into soon is a great idea. All three of these toys are appropriate for ages 0 and up. And even at 16 months, Hope is still intrigued by them. They are sturdy, safe and easy to clean. All of them have features that will appeal to their developing senses, especially the teething aspect. Any of these are sure to be winners.

1. O'ball Rattle– Pretty much every baby in my mommy group owned one of these. With so many colors to choose from, you can pick a color that you think they will like best. It can attach easily to a car seat or stroller with a strap so it won't roll away. As the little ones learn how to grasp and hold things for the first time, this will be the best toy to encourage and hone this skill.
2. Vulli Sophie the Giraffe Teether– Sophie has proven to be a favorite for over 50 years. Granted, it is a little pricey for something that resembles a dog toy, but this teether stimulates all five senses. Your little ones will start showing interest in Sophie around 3 months and will continue to love her as they grow.
3. Manhatten Toy Winkel– Similar to the O'ball, the Winkel is a great toy for grasping. With all the bright colors it makes for a fascinating visual experience. Plus, it can be refrigerated to act as a cooling teether.
Age 3-6 Months
What I found out at this age, is that my girls began to need more interactive toys. Although they still enjoyed the toys listed above, they was ready for the next level. As they become more coordinated and independent in their play, interactive toys become a great way for them to develop new skills.
1. Kids Preferred Amazing Baby Musical Instrument Gift Set – As a family of music lovers, these toys were a house favorite. They are functional, safe and just the right size. Even at age 5, Harper still enjoys playing with them.
2. Indestructibles Books– Tear resistant, water proof and non toxic, these books are built for the way babies read. They offer a variety of traditional childhood favorites and are a great way to introduce reading to your little ones.
3. Lamaze Tug & Play Activity Knot– With different sounds, textures and colors, this toy is filled with auditory, tactile and visual stimulation. There is so much to explore, babies will be fascinated by it again and again. It is a great way for them to build coordination and strength. Plus, it can be hooked on to a stroller or car-seat for easy travel.
Age 6-9 Months
As your little ones begin to explore the world by sitting up and crawling, finding toys that cater to these new skills are helpful. Most of the toys that Harper and Hope seemed to enjoy at this age had lights, sound and music. They would get a kick out of pressing a button and hearing something happen, a great way to learn cause and effect.

1. VTech Baby's Learning Laptop– With the majority of households having one or more computers nowadays, our little ones can't help but want to play with our delicate machines. Because their grandparents live internationally, Harper and Hope have been Skyping from a young age and therefore are pretty used to having a computer around. Having their own version is a great way to introduce them to computer play, an almost certain skill they will need as they get older.
2. LeapFrog Shapes and Sharing Picnic Basket – When Harper first got this toy, I was skeptical as to if it would be appropriate for her age (even though the packaging listed the age range from 6-36 months). But this has by far been a favorite toy for both my girls. What I love most about this toy is that it grows with them. As Harper began to learn her shapes, colors and social etiquette, this toy continued to be relevant.  Now as Hope has inherited it from her sister, it has a whole new life again.
3. Vtech Wiggle & Crawl Ball– When Harper first learned to crawl, this toy was a great way to keep her active. But with all the buttons, music and lights, this toy is engaging at any developmental stage. Through interactive games it helps to teach numbers, shapes and animals.
Age 9-12 Months

1. Fisher-Price Laugh and Learn Fun with Friends Musical Table– This toy was such a huge hit with Harper, we made sure to get one for Hope right away. The girls loved to cruise around the four corners and check out the different activity centers.
2. Tactile Books– Hope has always enjoyed reading, but she has recently become intrigued by books with different textures, flaps that open and close and anything else she can touch or feel. There are tons of options out there. I happen to like the JellyCat series because they have a variety of different animals to choose from, display a diverse assortment of textures throughout each book and are highly durable (because they are made out of cardboard).
3. LeapFrog My Pal Violet– Even though this toy is recommended for ages 6 months and up, Hope just recently became intrigued by it. What makes this toy so special is that you can program it on your computer to give it a personal touch. So it can say your little one's name, recall their favorite food, color and animal. It has taken Teddy Ruxpin to a whole new level (had to throw that in for all my old school peeps!)
I can safely say, each toy listed on this post will be money well spent. Hope (and Harper) continue to enjoy every item. Which means, it will be a gift that keeps on giving 🙂
For other developmental tips and more recommendations, check out these websites: Yoyo, BabyCenter
Happy Shopping!